Walk into Dennis O. Collier's studio and you are transformed. The choice of colors, decor, ambiance and hand-carved wood objects belong more to a Tibetan temple than to a wood shop. Influenced by Buddhist philosophy, the gold, maroon, green, blue and black walls and trim were painted for their intrinsic harmony, creating a spirited space: A place for work and beauty.
For nearly 45 years, his hand-carved wood designs have graced the halls of America's most prestigious businesses, institutions and private homes. He has established himself as the choice wood carver and designer for architects including Allan Greenberg, Robert A.M. Stern and Johnson & Wanzenberg. A privileged and discrete private clientele as well as institutions such as Yale University, Ursinus College, Simon and Shuster, the Smithsonian Institute and the United States Department of State have commissioned him for works including furniture, architectural ornament, original sculptures, reproductions, restorations and fine woodwork. Dennis Collier has the earned reputation of exceeding his patron's expectations. His carving skills are matched only by his artistic agility and collaborative spirit.
Wood carving and sculpture has become a family business for the Colliers. Working alongside Dennis O. Collier in his studio is Dennis D. Collier. "Little" Denny is a carver as well who has contributed to the excellence of his father's studio for the past 30
years and has been instrumental in the studio's expansion to include casting. The father and son team have proven adept problem solvers. Together they have developed innovative new techniques for casting in multiple mediums, including resins and bronze. Their collaborations have pushed their mediums to the limit and opened the studio to new and exciting new possibilities.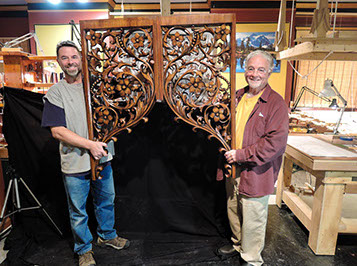 Coming Home
After returning from Vietnam in 1970 to his wife and baby son, Denny, he tried teaching but found more fulfillment in using his hands by remodeling kitchens and bathrooms. His carving career began unexpectedly in 1973 when a client wanted a carved leaf on a small cabinet. Never having carved before but inspired by the request, Dennis fashioned his own chisel out of a wood file that he had and completed the job. The client was impressed and Dennis had found a new passion and expression.
Collier's reputation as a carpenter, and now a wood carver, spread rapidly. A local church hired him for some simple designs which evolved to include designing and carving the entire sacristy; including representations of the Holy Trinity, Basilica, Crucifix and all the sacraments.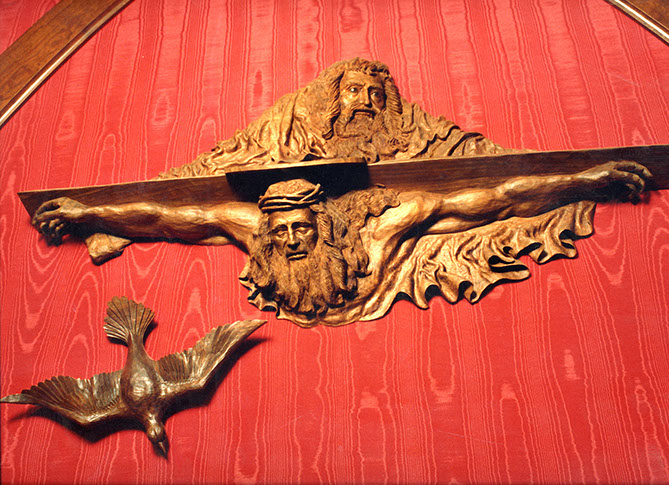 The US Secretary of State Suite
The success of the church commission led to even more custom carving, culminating in a 1984 interview with Eisenhardt Mills of Easton, Pennsylvania. Eisenhardt caters to some of the North East's best architectural and interior design firms. In 1984, the architect Allan Greenberg had just been awarded a prestigious commission to design and renovate the offices of the Secretary and Undersecretary of State and the Diplomatic Reception rooms in the US Department of State's headquarters in Washington, DC. The rooms were to be decorated in Georgian splendor and required extensive wood carving detail in their capitals, wood trims and whorls. Collier met twice with Greenberg resulting in a maquette of an American Beauty rose. The subject of the maquette could not have been more appropriate, as the American Beauty rose is the official flower of the District of Columbia and the national flower of the United States of America. The Greenberg-Collier ollaboration resulted in a stunning architectural transformation. The Diplomatic Reception rooms and Secretary's offices, which had been appointed in 50's style modernism, blossomed in their newly appointed Georgian grandeur and remain among the Capital's most attractive official rooms.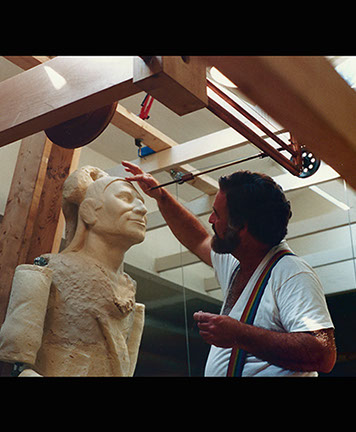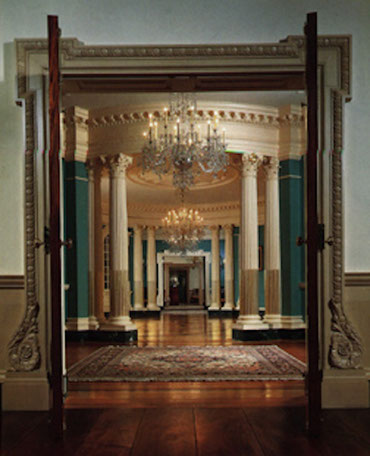 Innovation
Collier's ability to reach out into the unknown for answers and return unique and exciting innovations is rooted in his Buddhist studies. Time and again he has emptied his thoughts only to return again from the spiritual well with solutions that do not merely fill a need, but go far beyond one's expectations, often presciently anticipating future hurdles. To illustrate, he designed and built a pointing device that allows exact replication between a study medium and an original. A complete design can be developed in clay (a malleable medium), revised, reworked and approved, and then applied with exacting tolerances to the wood version (a less malleable medium). The instrument traverses two tandem pointers throughout two adjacent spatial volumes four feet wide, four feet deep, and ten feet high. Easily positioned and requiring no locking procedure, an otherwise complicated and taxing effort can be easily performed by one man.
The device was employed during the restoration of three hundred-year-old figurehead from an historic Delaware Bay trading ship. An exact clay reproduction of the ten-foot tall sculpture was erected next to the original with the assistance of the pointing device. The clay armature allowed both the artist and experts from the Smithsonian Institute to finalize a restoration model before
committing the design the original artifact. The pointing device was used once again to replicate the dimensions of the clay version with the original. Creative problem solving breathed new life in old methods of restoration. The pointing device provides unique, efficient, and accurate measures from the most delicate of historical restorations to the most intricate of newly envisioned designs.
To Collier, innovation expresses openness: "Staying abreast of the flow is not a river's problem, but the struggle of that stationed in the flow. It is a self-delineating boundary that isolates solver, problem, and solution while introducing efforts that vanish at the transparent erasure of these contours of artifice. Anything is possible and actually probable in the realm of thoroughgoing relativity."
Buddhism
In 1982, Mahayana Buddhism crested the wave of his spiritual journey, pressing into full service and beyond, the philosophies of Christianity, Hinduism, Sufism and Taoism. Buddhism opened and expanded Collier's mind, giving expression in his inspired wood carving and brilliant designs. His artistic and stylistic agility has made him a sought after artistic collaborator, while his personal philosophy and journey has inspired him to provide solutions that seem plucked from heaven. Allan Greenberg has said, "[He] has the rare ability of being able to take my ideas and transform them into carved sculptures whose beauty exceeds anything imagined."